Clear Mind, a Simple Machines Forum (SMF) Theme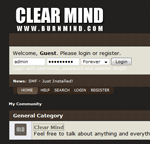 While wandering into the more ..labyrinthine areas of my hard drive, I found an SMF theme I've made a couple of months ago and I decided to give it away.
Clear Mind is a clear and modern SMF theme, based on the default SMF theme. There are 2 versions available. The first is compatible with SMF 1.1.8 – 1.1.11, while the second is compatible with SMF 2.0 RC3.
Try it out: Version 1 & Version 2.
You can download it from the SMF Theme Site: Version 1 & Version 2.
If you decide to try it, please provide some feedback.