Football Manager 2009 – Remember, remember, the 14th of November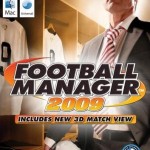 I am a huge fan of the Football Manager (and before that, the Championship Manager) series. Like other people around the world, I was waiting the 14th of November, 2008 so I could play the brand new Football Manager 2009! I decided to buy this one since I don't play many games in a year and therefore could afford it.
When I discovered that it was available to buy and download via Steam, I thought of trying it (I don't like dvd-cases anyway). There, I found out that the price (I can't recall the exact amount right now) was the same as the dvd-edition.. Therefore, I decided to wait for a few hours and think about it.
While I was visiting some FM forums to read the first impressions about the new game, I read the same thing a lot of times: a lot of users couldn't activate the game, therefore couldn't play it! It wasn't a coincidence that when the game appeared in the …dark part of the web, the activation servers (with fewer users trying to activate simultaneously) worked again!
After this, I downloaded and played it! It is very good by the way! I waited long enough to buy it in a more affordable price, and when the amazon's £17.96 considered fine, I did!
The funny part of the story is that when my original dvd arrived, neither mine nor anyone's else dvd drive managed to read it, so I just installed my downloaded version using my new activation code…
It is too hard to sell a game from Steam for a normal price (for example £15) and save me (and possibly others) from all this trouble? :-)
By the way, if you are interested in mmo games I would suggest to visit zuckr.com, which includes a large mmo games database, which is growing larger every day.