Looking back to this year (2013)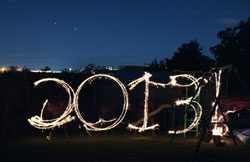 Last year, for the first time, I wrote a new year's resolution; just a small list of things which I would like to complete in 2013, from a professional point of view.
Since I went over it a few times during the past year to check how I was progressing, I thought it would be nice to go through the list in a blog post as well before writing my new year's resolution for 2014.
"Write my PhD Thesis" — Almost there!
"Publish 24 posts in burnmind" — Including this one, I'm at 17. I didn't reach my goal, but considering the number of drafts in my WordPress admin, I'm positive that I'll do it next year.
"Publish at least one guest post in another English-speaking blog" — I totally failed with this one and I'm not happy about it, simply because I didn't even try to complete the goal.
"Create a jQuery plugin" — Done! Blindify was my first ever jQuery plugin.
"Release a small open-source project" — Done as well! I created a password-less login system for PHP, released it via GitHub, and already used it in a few projects.
"Complete one of the web apps that I'm working on" — I did complete one in a very short period of time a few months ago. It is ready to launch, and right now I'm in the process of running a private beta to test a few things before the public launch (hopefully within a couple of months).
I have to say that it was a quite interesting year. I'll be back in a few days, with my new list. :)
Photo by Luke Markof