A list of Podcasts I listen to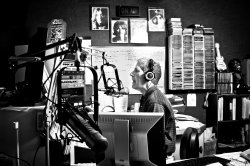 Podcasts became popular again in recent years, and there are some really great ones out there. I compiled a list which contains some of the podcasts I regularly listen to. Without further ado, and in no particular order (well, they are actually in the order they were featured in my newsletter), here's the list:
As the title suggests, it is a podcast about bootstrapped startups, where its hosts (Ian Landsman and Andrey Butov) discuss about their startup adventures. Just to warn you, during their discussions, they sometimes go off-track (e.g. talking about movies), but that helps the show to develop its own unique character.
Initially called "The Ruby Freelancers Show", it later rebranded to a more generalised resource for freelancers. The podcast features discussions between freelancers on the topics of running a business, finding clients, marketing, etc. Also, at the end of each show, the panellists pick items that they enjoy or that make freelancing easier.
The Giant Robots Smashing into Other Giant Robots podcast is a weekly technical podcast discussing development, design, and the business of software development.
A few years ago, Seth Godin hosted a small startup school spending a few days with a number of startup founders, discussing startup-related topics. He recorded these discussions and released a selection of them in the form of an extremely interesting fifteen episode podcast.
Chasing Product is a podcast which aims to help freelancers and consultants transition from client work to launching bootstrapped software products.
As its title suggests, Bootstrapped Web is a podcast focusing on (existing or aspiring) founders of bootstrapped online businesses, covering most of the topics you would expect from such a podcast.
Launch is a two hour audio documentary which follows the two creators (Rob Walling and Derrick Reimer) of their startup (which is called Drip) "from its first days of inception through the agonizing months of writing code, talking to customers, and the never-ending uncertainty of whether anyone will ever use what they are building".
The Five-Minute Geek Show is "a twice-weekly show about web development and everything around it. It's one topic per episode about front-end, back-end, mobile, project management, design, entrepreneurship… Whatever; if it's geeky, it fits!"
I really like this podcast. Its episodes are between 5 and 10 minutes, so they are short and easy digestible, and I find most of the topics so far quite interesting. I discovered it around episode 25 and I listened to all of the available episodes at that point within a couple of days.
Full Stack Radio is a podcast for developers interested in building great software products. In each episode, Adam Wathan (the show's host), talks to people in the software industry about everything from user experience and product design to unit testing and system administration.
The Laravel Podcast brings you Laravel and PHP development news and discussion. The podcast is hosted by Matt Stauffer (host of the Five Minute Geek Show) and its regular guests include Taylor Otwell (the creator of Laravel) and Jeffrey Way.
The Consulting Pipeline Podcast, is hosted by Philip Morgan and is focused on building your consulting pipeline through positioning, education-based content marketing, and marketing automation.
The Laravel News Podcast brings you all the latest news and events related to Laravel. You can think of it at an audio version of the Laravel News newsletter.
Want more?
A few years ago, I published a similar list of podcasts. Check it out; some of them are still active. You should also subscribe to Equilibrium, my monthly newsletter, where I regularly feature other interesting podcasts.
Photo by Brian Steele.